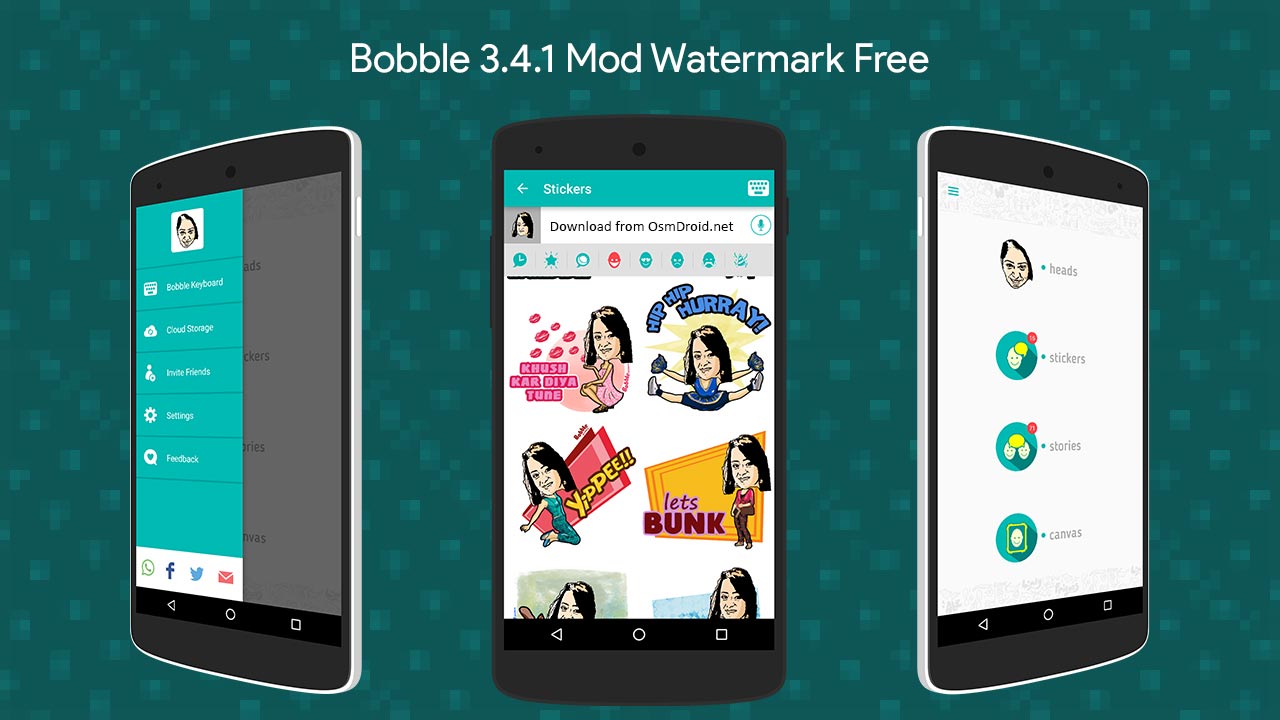 What's New :
• Keyboard – Now share Bobble stickers from any app using Bobble Keyboard. An awesome way to enhance your chatting experience.
• Oboarding – New flow to create bobble head from your selfie or gallery pics.
* Bug fixes and Enhancements
Features of this app :
CREATE & SHARE cheerful personal Stickers & Comics in the blink of an eye, on every messaging app – with Your Face & Your Message.
• Bobble converts your selfie into a OSM hand-drawn cartoon bobble head
• Your Selfie + Our Technology + Your creativity + Our graphics = Super lively conversations on Whatsapp, Messenger, Hike, Line, everywhere !
• Widget over every MSGing app – enables you to share instantly in a single click. No more switching apps!
• Be a star! Surprise everyone with your & even their funky avatars;
• Choose from a huge library of themes, characters, dresses, expressions, dialogues and captions.
Features of this mod :
* Removed canvas,stories,link watermarks
* Removed SOME stickers watermarks (watermarks can't be removed from ALL stickers as they are server side)
* Removed google flurry analytics
* In-App updater of added for future MOD updates
App Info :
Version Name & Version Code (Build) : 3.4.1 (3412)
Updated on : 24 November 2015
Developed by : http://www.bobbleapp.me/ http://bobble.in
Required Android Version : 4.0 ICE CREAM SANDWICH and up (API 14)
APK size : 22.5 MB (23,673,923 bytes) (Original apk size 22.7 MB)
MD5 : 2154B745AB5E5C9C32ABFD285E4A3A47
Download Link (Apk):
Instructions
:
1. Download and install it in your phone.
2. Thats all! Enjoy
Credits:
osmdroid